Put your crocheting or knitting skills to good use! Join me, Michaels stores, and countless others across the country as we help Warm Up America! and donate blankets to organizations in need in our communities.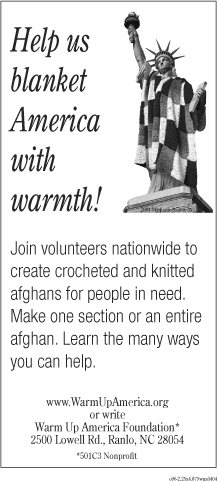 You can help by donating one 7x9" section or an entire afghan. You can make your section as basic (all single crochet) or as advanced as you like. Visit the Warm Up America! website for patterns. Drop your donations off at Michaels stores.
Normal, IL Store:
200 Greenbriar Dr.
Normal, IL 61761
309-268-4007
Peoria, IL Store:
5212 N. Big Hollow Rd.
Peoria, IL 61615
309-692-3275
Michaels will be doing a special in store demonstration on November 11th from 1-3. Visit your local store to pick up information about Warm Up America!, pick up section patterns, and meet knitting and crochet instructors.
Note: I'm the crochet instructor for both stores. Since I will be at the Normal, IL store on November 11th, I will be at the Peoria, IL store on November 10th for a special preview of this demo.
Visit
www.warmupamerica.org
for more information about this charity.